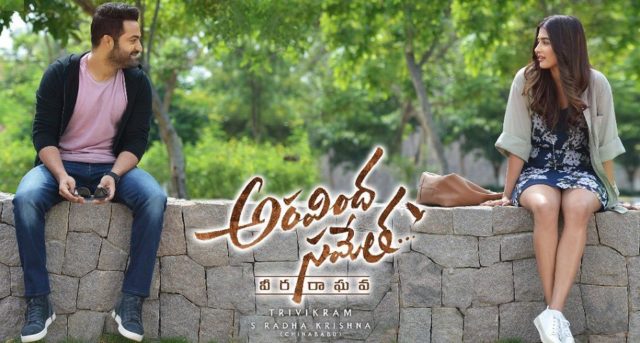 NTR and Trivikram are together for the first time ever with Aravindha Sametha whose trailers and music have created a huge buzz around the movies. Let's see how this Faction drama turns out to be:
Aravindha Sametha Movie Review
STORY: The story is based on some faction driven villages of Rayalaseema. Veera Raghava Reddy(NTR) loses his father and goes back to the city with a determination to bring a change in the lives of the people. However, opposition gang headed by Basi Reddy(Jagapathi Babu) is hell-bent on continuing faction the villages. Rest of the story deals if Veera Raghava Reddy succeeds in ending the faction in these villages.
PERFORMANCES: NTR takes all the applause as far as performances are concerned. He comes up with one of the best performances in his career. He is terrific in both the action episodes and the emotional scenes taking them to a whole new level. Pooja Hegde has a meaty role and she did very well in standing up to NTR.
Jagapathi Babu impresses once again with his evil act and manages to leave a mark. Naveen Chandra has a notable role and he came up with a good enough performance. Eesha Rebba, Naresh, Devayani and Nagababu also feature.
TECHNICAL DEPARTMENTS: Trivikram Srinivas, as usual, impresses with his direction and writing, pulling off the action and emotional scenes with ease. However, the movie fails to maintain the pace slowing down on multiple occasions as the plot line is too thin to make it engaging.
Production values are top-notch and the Cinematography is superb. Music from Thaman is good and the BGM in particular are terrific. Action sequences elevate the movie to another level. Peniviti's song picturization is a dampener though.
PLUS POINTS:
NTR
Action Scenes
Jagapathi Babu
Emotional Scenes
MINUS POINTS:
Narration is Slow
Lengthy Dialogues
Out Dated Story
VERDICT: To be exact, Aravindha Sametha is a faction drama with a storyline quite similar to previous films in this genre but what differentiates this film from others is Trivikram's writing. Instead of treating it as an action entertainer, Trivikram handles this with a deft touch giving ample importance to the family angle which hasn't really been explored in Telugu Cinema yet.
The director sticks to the point throughout which leaves very less scope for entertainment quotient. The movie appears slow at times and some scenes get preachy, but NTR's dynamic act combined with Trivikram's clever writing this is a good watch for the weekend.