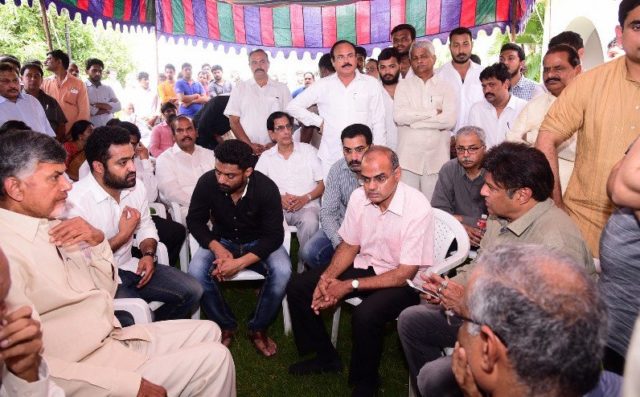 The entire industry, political circles and well-wishers of Nandamuri family are deeply saddened by the demise of Late Nandamuri Hari Krishna Garu.
Amidst all this trauma, there surfaced a candid video on the internet in which both NTR and Kalyan ram are having a cordial conversation with Nandamuri Balakrishna during lunch.
It is an open secret that the bond between Balakrishna and Hari Krishna/NTR hasn't been particularly good and one hardly recalls the last time they were seen together. There was even a hostile environment when their films clashed at Box-office.
Hari Krishna and NTR remained distant to TDP and the latter wasn't even involved in the campaign of 2014 elections. Nandamuri fans have longed to see them together since past few years but none expected it would happen around such misery.
The unfortunate event seemed to have brought them together and this sight was some relief that they have each other's back in these hard times.
Although some fans expressed that this event would have been much more pleasing if the meet included late Hari Krishna himself, we can only hope that the family remains in good touch in further days in Cinema, Politics and all the fields they are involved in.