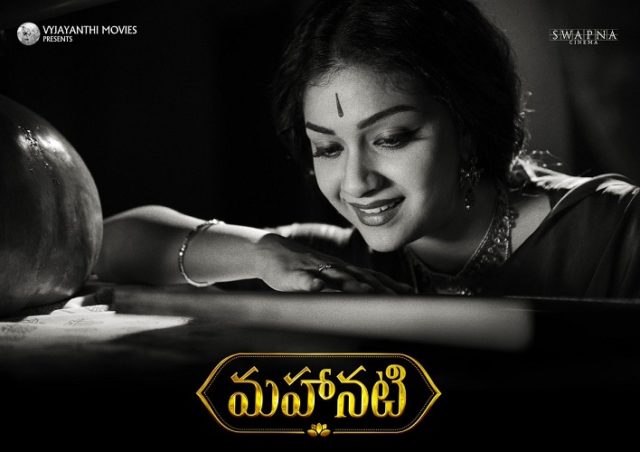 Release Date: May 09, 2018
Starring: Keerthi Suresh, Dulquer Salman, Samantha, Vijay Deverakonda
Director: Nag Ashwin
Producers: Swapna Dutt, Priyanka Dutt
Music Directors: Mickey J Meyer
Cinematographer: Dani Sanchez-Lopez
'Mahanati', the much-awaited Biopic of yesteryear actress Savitri has finally hit the theaters worldwide. Let's see if the movie has lived up to the huge expectations.
STORY:
Madhuravani(Samantha) who is a Journalist by profession is assigned the duty of covering the life-story of Savitri after the actress ends up in a coma. Madhuravani teams up with photographer Anthony(Vijay Deverakonda
Vijay Deverakonda) and starts penning the story. The movie plays out in flashback mode from then on, detailing the life of Savitri(Keerthy Suresh).
PERFORMANCES:
It is the role of a lifetime for Keerthy Suresh and she nailed the character to perfection in every aspect. She virtually lived in the character and it will hard for anyone to beat this performance of portraying the Legendary character. Dulquer Salman, as Gemini Ganeshan has given a tremendous performance which will be remembered for quite a long time. There is a dialogue in the movie which Gemini Ganeshan says "I have belief on love, not on marriage" which is dealing with philosophical approach of treating marriage. The unconditional love shown by Gemini Ganesan on Savitri was remembered no more just because of his unavoidable problems.
Samantha and Vijay Devarakonda have performed in a way that we believe they are real characters. Though they have less importance in the movie, the film plays out from their point of view. They both have utilised their screen space effectively and gave balanced performances.
Rajendra Prasad, known as "Natakireeti" has performed a role of KV Chowdary who is Uncle of Savithri Garu. He stole the show. Other characters, Srinivas Avasarala, Krish Jagarlamudi, Mohan Babu, Shalini Pandey, Malavika Nair, Prakash Raj have given some remarkable performances in the film.
TECHNICAL TEAM:
First and Foremost the captain of the ship Nag Ashwin perfectly executed the script to perfection with his deft screenplay. He showed the peaks of her Stardom in the First Half and downfall in her career as well as in personal life in the Second half, handling both aspects with aplomb.
Burra Sai Madhav once again excelled with his dialogues after Gauthami Putra Satakarni. Cinematographer Dani recreated the 50's and 60's era through with ease, despite being a foreigner. Special mention to Artwork, the Mayabazaar scene, Vijaya Vauhini Studios sets are the masterpiece. Mickey J Meyer did well with his songs and Background score.
SPECIAL ATTRACTIONS:
Nagachaitanya as ANR, Director Krish as KV Reddy,Mohan Babu as SV Ranga Rao, Prakash Raj as Producer Chakrapani and Avasarala Srinivas as LV Prasad.
PLUS POINTS:
Direction
Keerthy Suresh Performance
Art Work and Cinematography
MINUS POINTS:
It would be foolish to look for flaws