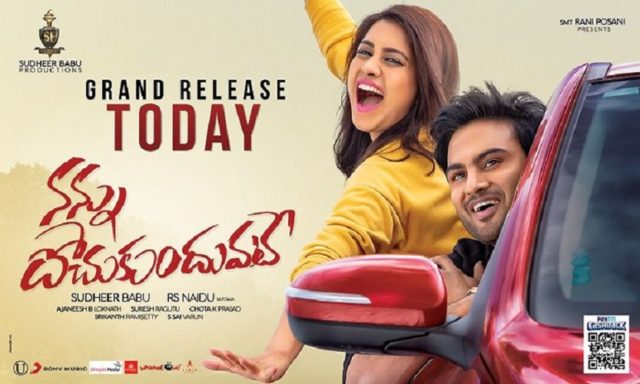 After a class hit like 'Sammohanam', Sudheer Babu has now come up with 'Nannu Dochukunduvate' which marks his debut as a producer. Let's see how his choice as a producer turned out to be.
Nannu Dochukunduvate Movie Review:
Story: Karthik (Sudheer Babu) works as a project manager in a software company. He is a workaholic and his dream is to settle in America as an MD of his company. His maternal uncle wishes to marry off his daughter to Karthik but it turns out she is actually in love with another guy.
To save her, Karthik lies to his uncle and father that he is in love with a girl named Siri. When his father demands to see Siri, he asks Meghana (Nabha Natesh), an actress who works in short films to pose as Siri. This leads to a  thread of similar events and eventually, everyone realize their mistakes to present the audience a happy ending.
Artistes' Performances: In the role of a software company's manager, Sudheer Babu is impressive. He is also convincing in the comic act for a short while. He gave his best in the climax with his father(Nasser).
Nabha Natesh in her Telugu debut impresses with her Energetic display. She definitely has a bright future. Nasser as Sudheer Babu's father played had a full-length role and the seasoned actor adds value to the character.
Technical Excellence: Director RS Naidu did well in portraying the subtle humour. However, the screenplay is sluggish especially in the second half with a lot of lags.
Sudheer Babu as a producer has spent good money to make the movie look rich. The film's music is not magical like Geeta Govindam but it works in few scenes. The Cinematography is not up to the mark and so was the editing. Dialogues are not effective.
Highlights:
First Half Office scenes
VIVA Harsha short film episode
Drawbacks:
Predictable story
Slow Second Half
Verdict:
Overall, "Nannu Dochukunduvate" offers nothing of interest apart from some good comedy scenes in the first half which should keep the present generation audience, but the second half is devoid of that humour and takes the emotional route which slows things down drastically.