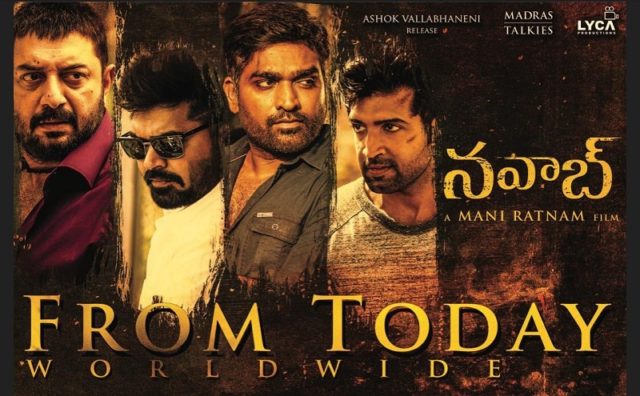 Legendary director Maniratnam who has made action films like 'Dhalapathy' and 'Yuva' has stayed away from the genre for a while now. He finally revisited the genre in his latest movie, dubbed in Telugu as 'Nawab' which got released this Thursday. Let's see if the movie lives up to the hype.
Nawab Movie Review:
STORY: The film sets up with an assassination attempt on Gangster kingpin Bhupathi (Prakash Raj) and his wife (Jayasudha) which they escape with serious injuries. We are then introduced to Varada (Aravind Swamy), Thyagu (Arun Vijay) and Rudra (Simbu), the three sons of Bhupathi. Varada lives with his father and takes care of the business under his command while the other two live abroad. The plot moves on to the investigation of the assassination attempt and it leads to a revelation that one of the three sons has planned the killing.
Tension builds between the brothers as each play their game to be the successor of their father's crime empire. An interesting addition to the power game is Rasool (Vijay Sethupathi), a suspended Inspector who is a close friend of Varada. We get to see the emotional and evil sides of all these characters reminding us that there is no one to trust here. In the end, the true colors of everyone is revealed and what follows has to be seen on the big screen.
PERFORMANCES: We expect nothing short of brilliance from a Maniratnam movie's cast and the lead actors here didn't fail to deliver too. Jyothika and Aditi were good but there is not much in the plot for them or for any other female characters. Aravind Swamy's character is dubbed by veteran actor Suresh and it took off the sharpness required in the character's voice.
Vijay Sethupathi's performance deserves a special mention here. He played a character who is sort of Krishna for this version of Mahabharata, mediating between the warring brothers. He kept the character cool and witty as if he doesn't matter at all while in fact, it was he who's driving it all.
TECHNICAL DEPARTMENTS: As always there's nothing to complain about the direction of the master Maniratnam but we can always talk about his scripts. He kept the film racing with one intense scene after another but didn't dig deep into the emotional side of the characters. It could be intentional but he clearly missed a chance to take the drama to another level.
Maniratnam's frequent collaborators Santosh Sivan and Sreekar Prasad have given what it takes to make this an engaging, intense action flick. A. R. Rahman's music is the crown jewel of this film. He has given top-notch background score that elevated all the action and chase sequences. The songs though were underutilized with none being longer than a minute.
PLUS POINTS:
Acting
Narration
Music
MINUS POINTS:
Poor Dubbing
Lack of Emotional connect
Verdict: 'Nawab' is an interesting action drama which almost could have been in the league of Maniratnam's best films if only had it been more emotionally involving. But it is a well-directed film which is watchable and a far better entertainer considering the recent debacles in the director's career.