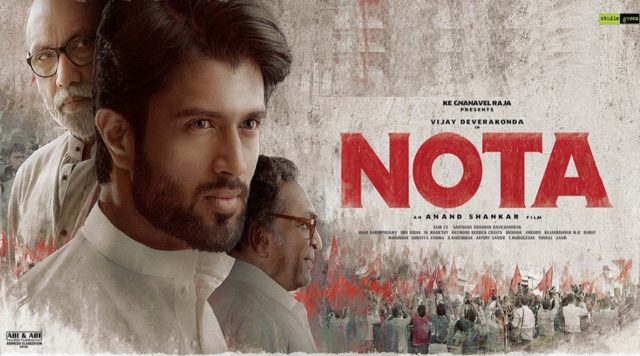 NOTA which released last week has underperformed at the Boxoffice in a big way and is likely to end up as a Disaster.
It is normally the Distributors who bear of the brunt of non-performing movies, however, this time its the Producer whose miscalculation is costing him dearly.
Post the tremendous success of Geetha Govindam, Vijay Deverakonda is an actor in demand, especially in the Telugu States.
So, Distributors queued up to buy AP/TS rights of NOTA and as per trade buzz there was an 18cr offer(AP/TS rights) on the table but producer Gnanavel Raja preferred to release the movie on his own with the help of Sunil Narang and UV Creations.
The movie was made on a meager budget of 12cr, so the Telugu rights alone would have given him a 6cr table profit.
however, with the movie underperforming at the Boxoffice(NOTA Collections: 12 cr in 3 Days), it is now unlikely to collect any more than 16-17cr.  The Producer will end up in green thanks to the Television Rights.
So, the producer will now be regretting his decision, while the interested distributors will be relieved that they were lucky not to bag the rights.