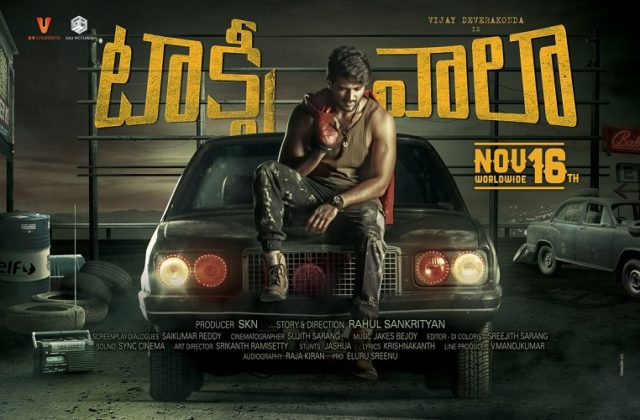 Vijay Devarakonda has had a mixed year so far, scoring a huge hit in the form of Geetha Govindam and immediately following up with a debacle like NOTA. His much-delayed sci-fi thriller 'Taxiwaala' released today passing through the unfortunate hurdles of piracy, let's see how it turned out to be:
Taxiwaala Movie Review
STORY: Vijay Devarakonda plays Shiva, a graduate who decides to be a taxi driver and buys an old vintage car. Life goes smoothly for a while with a steady flow of income and a new girlfriend, Anu (Priyanka Jawalkar) until he realizes that there's something wrong with his car. It seems to have been possessed.
He along with his two friends Babai and Hollywood (Madhu and Vishnu) initially try different things to fix things but eventually find their peace with it. But one day as things get worse they set out to find the mystery behind it from the car owner's end and it leads to a flashback episode where it's all explained.
PERFORMANCES: Vijay Devarakonda lives in his character and its pleasantly surprising to watch him as a simple, helpless, scared guy considering the massive successes he has seen lately. He lets the film be bigger than him and that is needed for this film. Priyanka Jawalkar's act wasn't bad for a debut performance.
Malavika Nair has got a role to showcase her acting mettle and she didn't miss it. She is almost the second lead in the film only after Vijay. Comic duo Madhunandan and Vishnu are a great asset to this film. Their episodes with Vijay are outright hilarious and ease the shortcomings in the plot.
TECHNICAL DEPARTMENT: Director Rahul Sankrityn has pulled of the emotions in the film really well, whether it's between Vijay and his family, Vijay and his Car and Malavika Nair. That flashback episode was a gamble as it becomes a film of its own to tell it wholeheartedly without deviating is a great job. He is a great talent to watch out for.
Dialogues are crisp, effective and never go overboard. Sujith Sarang gave great visuals and makes you feel claustrophobic. VFX are good at the pre-interval portion. Maate Vinaduga works well on the screen through the other songs are forgettable. Editing could have been better in the climax where things get too melodramatic.
PLUS:
Performances
Scares and Laughs
Direction
Technical department
MINUS:
Lag in the second half
Melodramatic climax
VERDICT: In spite of its shortcomings, Taxiwaala is a good entertainer that has the potential to draw all sections of the audience. Any story with supernatural bears the curse of being illogical but the presentation works here with a healthy dosage of humour and emotions.