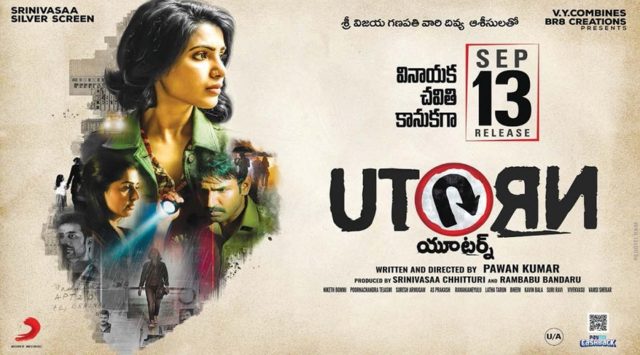 Samantha Akkineni has been living a great year so far with a string of hits and this weekend saw the release of 'U Turn', a thriller directed by Pawan Kumar. Let's see how it turned out to be
STORY:
Rachana(Samantha) is an investigative journalist who is working on the mysterious case of R.K Puram. The film starts off as a Rom-Com between Rachana and her colleague Aditya (Rahul Ravindran). Then as the events of R.K Puram flyover are gradually revealed the film transforms into a Thriller. Rachana now finds herself in a police station accused of a murder.
Inspector Naik (Aadhi Pinisetty) interrogates her and during the investigation, we are revealed more shocking facts about the case. This is about where the film pulls a genre shift again and now into a Horror film. And in the climax we get the usual big reveal that we often see in horror movies where 'it's all explained'.
PERFORMANCES:
There's hardly a scene in the movie that doesn't feature Samantha, she carries the whole movie quite gracefully. She was so open for interpretation in a few scenes that we couldn't guess if she was lying. Aadhi Pinisetty has played this role of an investigative officer earlier and pulls off with ease.
Rahul Ravindran has limited screen presence but he was good with his distinctive subtle acting. Other actors like Hariteja who played minor characters were decent. But there were many extras in the movie who could have been cast well.
TECHNICAL ASPECTS:
Pawan Kumar who directed 'Lucia' earlier which was brilliant came up with a comparatively mediocre script this time for U Turn, although the direction is good. The thriller aspects came off well but the problem with the script is that it gets predictable and gets burdened with its preachy subtext.
One element of U Turn that is truly remarkable is its Cinematography by Niketh Bommireddy. The whole police station stretch in the first half is beautifully captured. Background score works well in a few jump scare scenes. Dialogue is of the quality of a dubbing film and the accents are too artificial.
PLUS POINTS:
Cinematography
Direction
Samantha's performance
Editing
MINUS POINTS:
Screenplay
Dialogues & Dubbing
FINAL VERDICT:
The entire first half of U-turn was a different film altogether where the thrills have worked out really well but the film takes an eventual fall in the second half but it's still a well-directed film whichever genre it may adhere to.
'U Turn' doesn't infuse any unnecessary elements like humour or songs into its narration.  In short, it doesn't take any U Turn, it sticks to its lane and moves towards its destination being well aware that its reach will be limited.