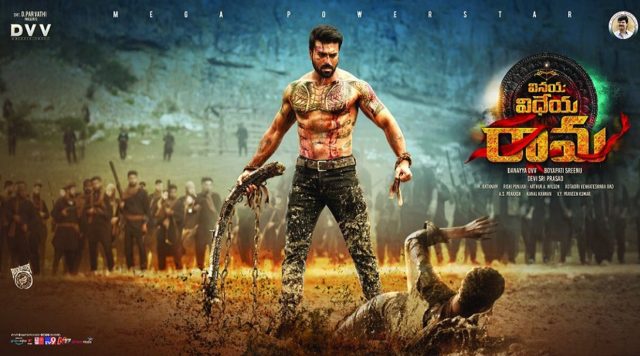 The most awaited combo of Ramcharan and Boyapati has finally arrived amidst a lot of expectations. Let's see how the film turned out at the Box office.
Vinaya Vidheya Rama Movie Review:
STORY: It starts with 4 ragpickers seeing abandoned Ram Charan and adopts him. Later Ram Charan quits his education and ensures his brothers pursue theirs and get into top positions. The story revolves around how Ram Charan loves and protects his brothers and family from villains.
PERFORMANCES: After Rangasthalam, Ram Charan has given another good performance particularly in action sequences and warning episodes. However, his acting skills aren't put to test here.
Kiara Advani has the least scope for performance in the movie and is mostly confined to the glamorous role. Sneha and Vivek Oberoi have done justice for their characters.
TECHNICAL DEPARTMENTS: Boyapati has disappointed again with his thin storyline and screenplay. Mass sequences are good but few odd scenes will face criticism from many enlightened Telugu audience.
Music has been another setback, VVR has missed the DSP mark. Production values and Cinematography are fine.
PLUS POINTS:
Action sequences
MINUS POINTS:
Direction
Editing
Casting
VERDICT: Vinaya Vidheya Rama has got nothing much for the audience except for a routine story and narration. However, being a festive season and Ram Charan's craze after Rangasthalam may pull the audience from B and C centers and make it work at the Boxoffice.
Boyapati once again disappoints his fans with a routine story and screenplay.