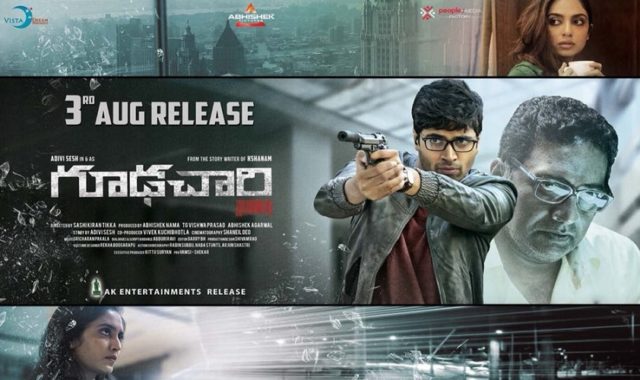 Adivi Sesh is finally back with Goodachari after the stupendous success of 'Kshanam' two years back. Let's see if the movie has lived up to the huge expectations.
STORY:
Gopi(Adivi Sesh) is the son of an ex-RAW agent Raghuveer, who gets killed in the line of duty. He is brought up by his uncle Satya (Prakash Raj) and wants to be an agent just like his father and uncle. He applies for IB, Raw, and a few other services but fails to get in. However, he later gets selected for a secret operation by Indian Government. Gopi gets entangled with a bizarre situation there and the story revolves around if he can resolve the situation.
PERFORMANCES:
Adivi Sesh also being the writer of the movie has designed a role which any actor would love to portray. The character has action sequences, emotional scenes and a few bits of breezy romance and Sesh has portrayed all of these with a certain ease.
Shobita Dhulipala makes a good debut and is impressive in the sophisticated looks, but there is still scope for improvement. Supriya Yarlagadda makes a return to cinema after a while and is apt in the role of an agent. Prakash Raj got a wonderful role and he nailed it with his performance. Vennela Kishore surprises everyone in a different avatar.
TECHNICAL TEAM:
First and Foremost the script is the biggest asset of the movie and Adivi Sesh deserves huge applause for his slick writing. Director Sasi Kiran handled the script very well with a water-tight screenplay and showed a lot of maturity in sticking to the core subject without many deviations.
The cinematography is top notch as the action sequences are slick while also showcasing the landscapes beautifully. Music from Sai Charan Pakala is an asset to the movie. The movie has been shot in different localities and the production values also deserve praise, but it did deserve a bit more grandeur.
PLUS POINTS:
Writing, Screenplay and Editing
Emotional Episodes
Background Score
MINUS POINTS:
Slow Second Half
Few characters Lack Depth
VERDICT:
The Spy Thriller genre is a concept which hasn't really worked in India so far, thanks to the mediocrity of filmmakers who get stuck with the commercial angle ultimately screwing the core concept. However, Goodachari is an exception as it has a mix of some edge of the seat thrills combined with an emotional background, which keep you entertained throughout.
Some scenes might remind you of some Hollywood movies, but the biggest achievement is that the movie ultimately stands on its own. We will hardly get concept-oriented movies in Telugu and when it is made this well, you should try not to miss it.