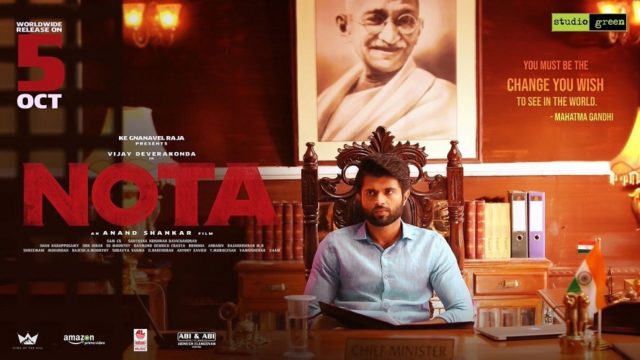 After a blockbuster like 'Geetha Govindam', Vijay Devarakonda made his debut in Tamil with 'NOTA' which released this weekend. Let's see how this Political drama turns out to be:
NOTA MOVIE REVIEW
STORY: Varun (Vijay) despite being the son of Chief minister Vasudev(Nasser), likes to keep himself distant from his father's politics. On his birthday, he gets the news that he was being made a temporary chief minister as his father faces a CBI inquiry. So begins the journey of Varun as a Politician. He starts off reluctantly and does whatever he is told to do, aptly called as Dummy CM.
As things get really bad, he finds himself in a situation where he has to act and he does. He no longer takes orders from anyone and transforms from Dummy CM to a Rowdy CM. Rest of the film focuses on political events reminiscent of what we see in South Indian politics frequently. NOTA ends rather abruptly and misses the punch that was needed in the end.
PERFORMANCES: Vijay Devarakonda portrayed the transformation required for his character very convincingly and keeps us glued to the film through all its mediocre elements. He is at his best during few scenes which turn out to be the savior of the Film.
Nasser and Sathyaraj play very important characters that are polar opposites but the thing in common is their effortless acting. Other cast including Mehreen have very limited screen presence and rightly so.
TECHNICAL DEPARTMENTS: Director Anand Shankar has brought out the political scenarios realistically and he should be commended for avoiding commercial elements like action and romance. He could have developed the characters better to create more drama.
Cinematography by S. K. Ravichandran is good and reminds us of his father's work. Music is composed by Sam C. S, who gave great background score but the songs are mediocre. The production matched to the scale required but the biggest disadvantage for NOTA is that it never feels like a Telugu film. It was wrongly promoted as bilingual while in fact, it's a Tamil film both in language and Nativity, dubbed into Telugu.
PLUS POINTS:
Vijay Devarakonda
Background Score
MINUS POINTS:
Flashback episodes
Tamil Nativity
Story & Screenplay
Songs
VERDICT: NOTA works well in parts but on the whole, it's mediocre at best. After a good first half which set up a scope for great drama, the film loses it all in the second half and rushes towards the climax. Nasser, Sathyaraj's flashback scenes weigh down the flow and don't lead anywhere in the end.
Perhaps it could have worked a bit better if it was promoted as dubbed film and not as a Bilingual. It could be received well in Tamil but as a Telugu film 'NOTA' works only because of its lead actor.