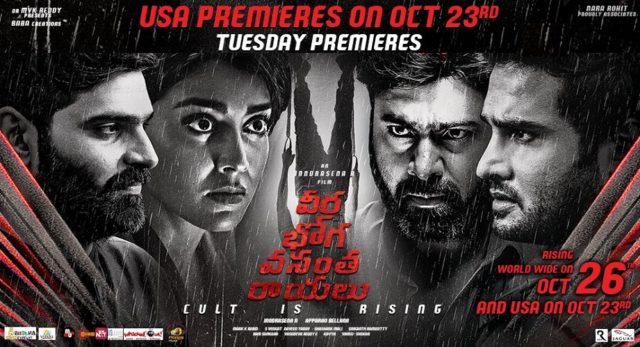 The promotional material of Veera Bhoga Vasantha Rayalu has been impressive, creating an enthusiasm among the audience. The movie has hit the screens this week, lets see how it fares:
Veera Bhoga Vasantha Rayalu Movie Review
STORY: Veera Bhoga Vasantha Rayalu deals with 3 different subplots which run alongside each other. A missing flight with a bunch of VIP's, a house that goes missing and an orphaned child. The movie deals with these cases are resolved and what is the link between them? What roles do Nara Rohit, Shriya Saran, Sudheer Babu and Sree Vishnu play in this setup?
PERFORMANCES: Most of the cast including Nara Rohit, Shriya and Sudheer Babu do a good job, but it's Sree Vishnu who stands out with a stunning look and impresses with his acting abilities.
However, the dubbing of Sudheer Babu and Shriya leave a lot to be desired and the voice of Sree Vishnu too cringes at some important junctures. Although, these are minute things they cause a major distraction.
TECHNICAL DEPARTMENTS: The Director fails in giving us an engaging thriller although his script work is par excellence. His Narration tests the audience patience at many points and he needs to improve that aspect to become a successful director.
Music and Background score are just decent and left a lot to be desired. Production values are well below-par. The camerawork is good, Editing should have been better while the dialogues needed to be crispier.
PLUS POINTS:
Great Concept
Excellent last 20 mins
MINUS POINTS:
Sluggish Narration
Direction
Production Values
VERDICT: Veera Bhoga Vasantha Rayalu has an Excellent premise and a climax which can give some Hollywood thrillers a run for their money. However, what lets it down is the debutant director whose shortcomings are clearly visible in his narration and almost makes a mess of a great script.
The Narrative is choppy for the most part and tests the patience of the audience, however the final act(last 20 mins) does save the movie and makes it watchable leaving the audience thinking what a Gem this could have been if it the screenplay would have been more engaging.